A short stay in Bath
Taking time out from the everyday hustle of working life is important - it'll keep you sane, do away with stress and even motivate you to get back to work. It's something I haven't done much of this year, having only taken three days holiday in eight months. So, I decided to take two weeks off to explore the world around me… a.k.a. the United Kingdom.
First stop, Bath. Sure, I could've booked a holiday to an exotic beach or jetted off to a city in another country, but I place high importance on learning about the country I live in as well as the rest of the globe. The UK has its fair share of historical landmarks and stories to tell, and a week in the countryside is just what the doctor ordered.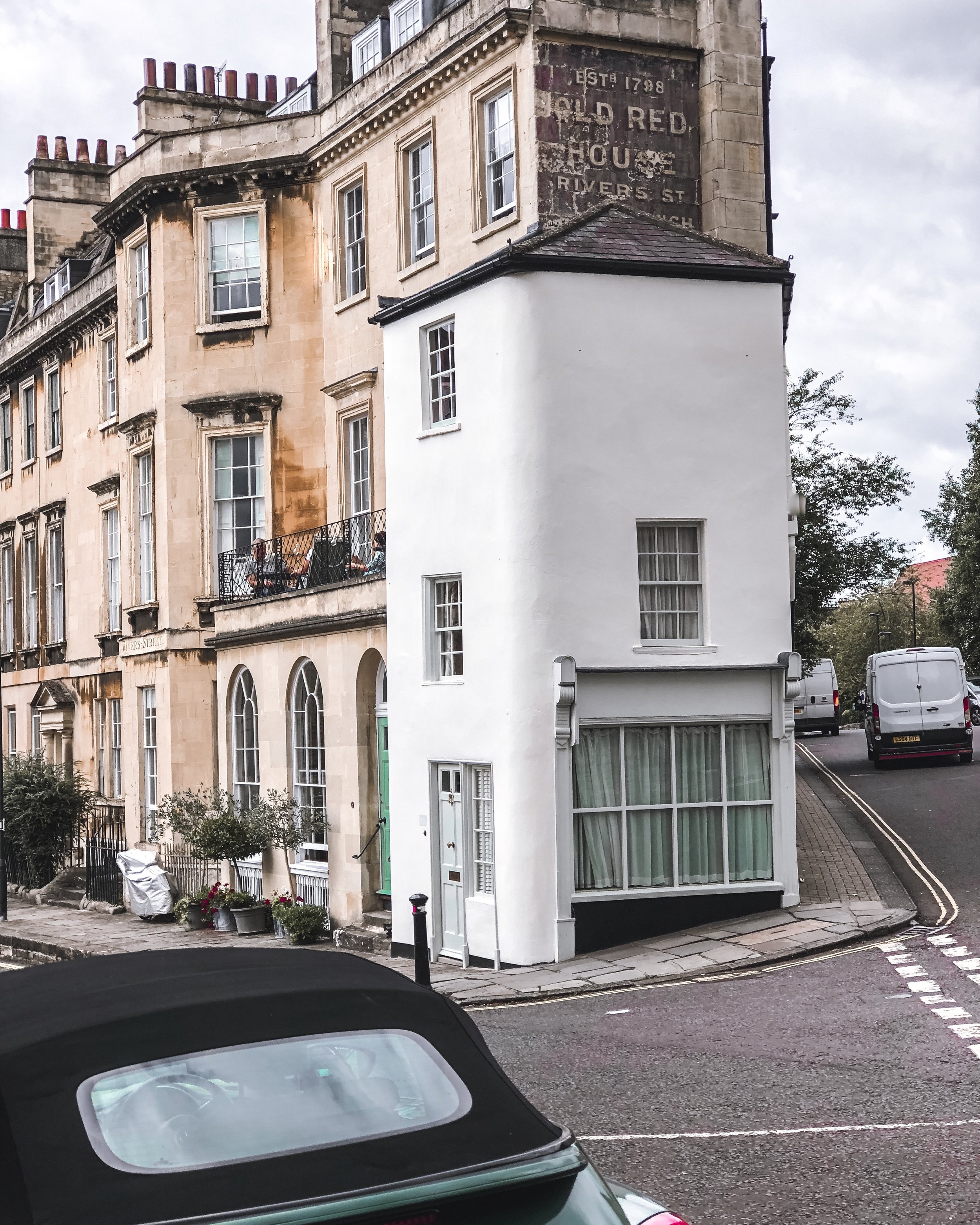 My boyfriend Ethan and I decided to stay at an Airbnb a short walk from the center of town. We wanted a place that stood out, and found this cute little Grade II listed cottage that dates back to the late 1790's. You can still see the Old Red House sign above the building from one of its many uses - a bakery.
Charlotte was a lovely host, she met us at the house when we arrived to show us around, and left us with a welcome pack full of recommendations of places to eat and visit. It was the perfect place for a couple to stay.
PLACES TO VISIT
I can already tell that this blog post is going to be a long one, so instead of listing everywhere we visited, I'll talk about the ones I think are the most worthwhile.
Bath Abbey
Probably the first place to jot down on your 'to visit' list is the Bath Abbey. This grand church's gothic architecture stands tall in the centre of town and is full of history - Christian worship has taken place here for over 1,200 years and continues to this day. While at the Abbey, you can take a paid tower tour which takes you up a narrow staircase, to the bell towers and onto the rooftop for a view over the city.
Roman Baths
I would 100% recommend visiting the Roman Baths, even if you're only in the city for a weekend. It's about £17.50 per adult (£16.50 if you book online) to get in to the entire museum which teaches you about the history of the public baths, the process of building the structure and artifacts found buried nearby as well as walking you around the main pools.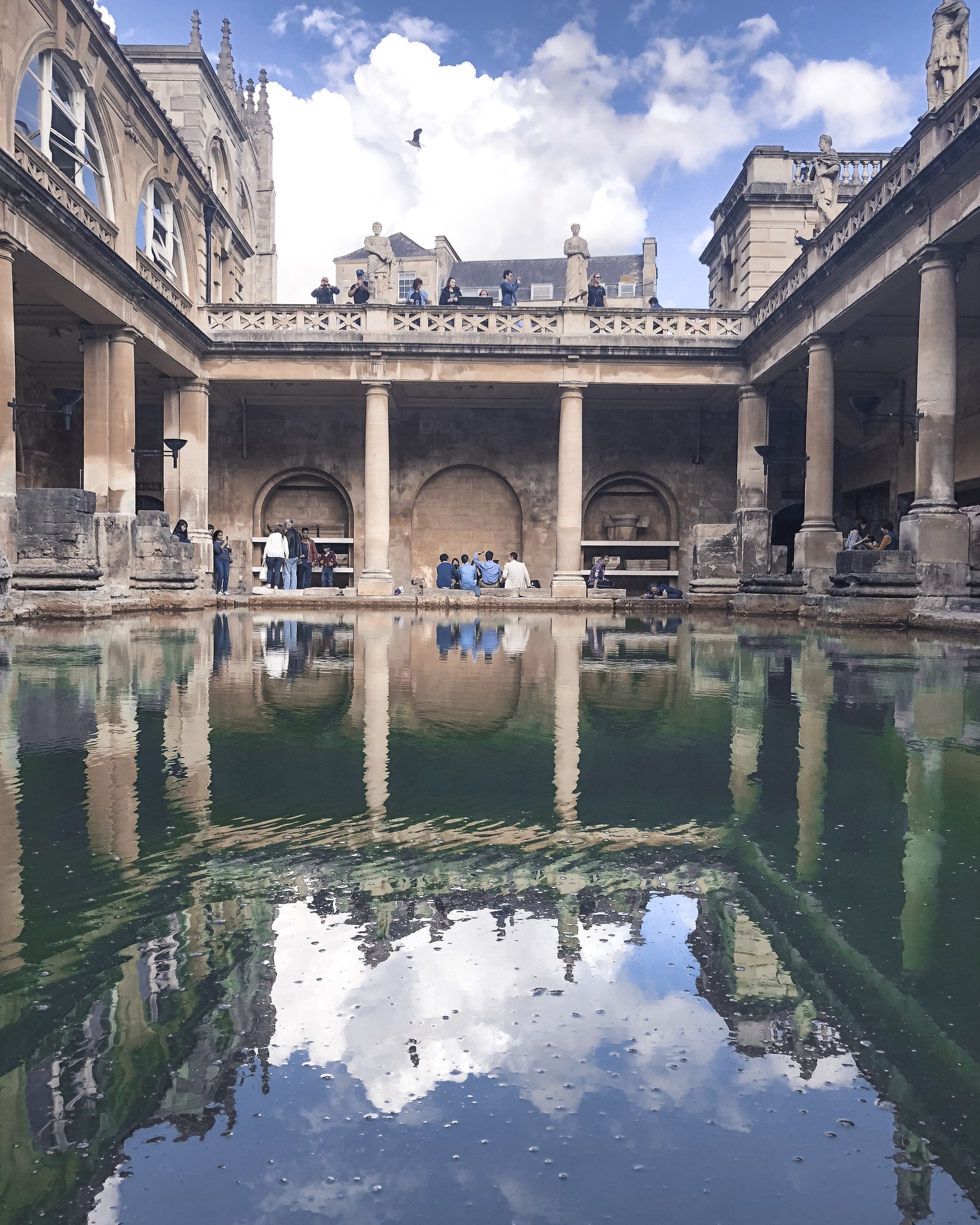 The museum cleverly uses sound and projections to tell a story as you walk through each part, and you can pick up a free audio guides at the beginning to learn even more. At the end, you can try some of the natural hot spring water - a warning to all, it tastes like metal!
Pulteney Bridge
While there's not much to do at Pulteney Bridge, it is a beautiful piece of neoclassical architecture to look at and close to La Perla (which you can read about further down). If you're a bit of a musical fan, this is actually the bridge Javert committed suicide from in the 2012 film version of Les Miserables.
Royal Crescent
Of course, the Royal Crescent is the most famous of the many crescents in Bath, drawing in many tourists. Said to be constructed between 1767 and 1775 by talented John Wood (Elder) and John Wood (Younger), the half moon design consists of 30 grade I houses. There's a lovely little park below which would be great for a picnic on a sunny day, and I'm pretty sure you can rent Airbnb's and stay at (pricey) hotels within the Royal Crescent if you so wish!
The Circus
Another example of crescent style architecture in Bath, The Circus was about five minutes walk from our Airbnb and really caught my attention - so much so, that I wrote a little Instagram post on the history. It was also constructed by the Wood family, and is an eye catching spot for photos.
THINGS TO DO
If you're looking for a bit more than sightseeing, here are some things to do whilst visiting the picturesque city…
Thermae Bath Spa
It is definitely worth putting aside half a day to visit this spa for the chance to bathe in the UK's only natural hot mineral-rich waters. Thermae Bath Spa is a combination of the historic spa and modern design, offering two hot mineral pools, a selection of wellness rooms (salt steam rooms, cold rooms and walk through showers) and treatments, as well as a restaurant.
We headed to the spa for a relaxing morning, and paid £36 each for two hours use of the spa facilities. While that sounds like a short slot of time, it actually went by so slowly, and we came out feeling like we were walking on clouds!
Bath on the Beach
We came across this hidden gem while wandering around the park next to the Royal Crescent. Small signposts direct you down to a beach-hut bar with plenty of activities from beach volleyball to mini golf to boules. We had frozen margaritas, beer, nachos and enchiladas while enjoying the vibey atmosphere - one to take the children to for a fun family day out!

PLACES TO EAT
A good travel post wouldn't be complete without a list of food recommendations - especially for someone who loves eating as much as me. We visited a few places while in Bath, but here are my three favourites from our time there...
La Perla
Perfect for a romantic dinner with your man or sophisticated evening with friends, the food here was amazing! The restaurant itself is set underground, with Spanish chefs and waiters serving a range of tapas and an extensive wine list.
It is a beautifully lit space, but with the low-lighting you'll have to excuse the slightly darker pictures of our food! I am vegetarian, but decided to try some of the fish on offer (for the first time in a year!). I'd definitely recommend the battered cod which has a light batter that melts in your mouth, and the omelette… and of course a jug of sangria to share!
Soho Coffee Co.
I usually like to explore independent coffee shops when I'm visiting a new place, but we happened to stop in Soho Coffee Co. out of pure hunger before visiting the Roman Baths. The food here is great if you're into cold pressed juices and healthy wraps, and it has a great quick bite atmosphere. Definitely somewhere to stop if you're in the middle of town.
The Oven
This is not an understatement, I had the best pizza I've ever eaten in my life at The Oven. So much so that I didn't even take a picture because it was in my belly before I remembered. I mean, how can you beat fresh stone-baked pizza?!
That's all from my time in Bath, I hope this mini-trip advice is helpful if you're looking to visit. Look out for a new post every week here on Project Becks.
Until next time!